My dad on the 1953 Allis Chalmers.

This 1952 Allis Chalmers CA tractor was purchased new from an Allis Chalmers dealer in New York State by my maternal grandfather, George Campbell. He owned an 88 acre farm in the lower New York State valley that he used for a summer home, a hunting lodge and also to raise a small amount of crops for his family's personal use.

When he passed on in 1964, the tractor sat idle until my grandmother passed away in 1998. When her estate was finally resolved in 2000, my father and I decided it would be a nice memento for my mother to have the tractor that her father had used to take his children and grandchildren on rides around the property with during the summers they spent on the farm.

By the time we arrived to reclaim the tractor, it had sat in an open ended barn for 36 years. At one time it looked like one of the groundskeepers had attempted to get the tractor running, as there were parts strewn all over the barn. My father and I gathered as many of the parts we could find, plus a snowplow, a two bottom plow and a sickle bar. We loaded it onto our trailer and hauled it back to our house in New Jersey.

The engine is the original engine that came with the tractor. It's a vertical I, 4 cylinder with a 3.375" X 3.50" bore & stroke, 125 CID.

After approximately one years worth of work (and a LOT of web site searching!) we have our restored CA. Enjoy the photos!

The headlights even work! We decided to restore it the way it came, with a 6V positive ground generator system. I did upgrade the cutout to a voltage regulator, though.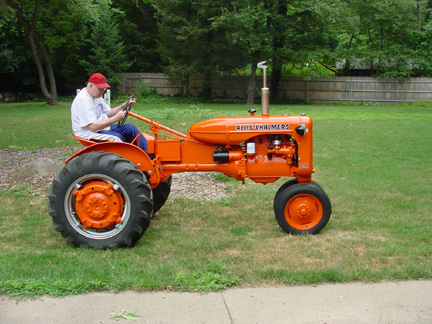 Not quite finished yet, at this point I still had to paint the intake cover, and get a new handle for the hand clutch. I put a rain cap on the exhaust, even though we store it inside.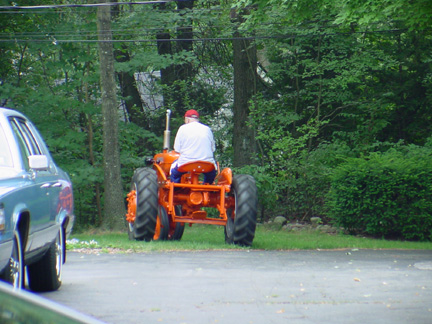 The tractor runs exceptionally well. There was never a lot of hours on the motor, so I didn't rebuild it. The next part is to finish the implements.
I'm also planning on replacing the tires, the fronts are a little dry rotted, the rears are much worse.
One rear is an original tire, the other was replaced in 19.

1950 Oliver OC-46 page
COMING SOON!!
My 1945 Farmall H page
My 1953 John Deere 50 page
© Copyright 2003-2006 Pileline Publishing
Design and layout © Copyright 2003-2006 John J. Dougherty